Supporting the struggles of indigenous women everywhere
Date:
We want to be actors in our own futures with full rights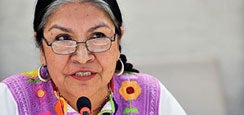 Tarcila Rivera Zea took part in the Beijing Conference in 1995. Today, this indigenous activist is President of the Centre for Indigenous Cultures of Peru (CHIRAPAQ) and a member of the UN Women Global Civil Society Advisory Group.
Read her take »
Indigenous women have long faced multiple and intersecting forms of discrimination and violence, both as women and as indigenous peoples. In cities and villages and in their communities around the world these women struggle to overcome the myriad challenges they face daily.
The focus of this year's International Day of the World's Indigenous Peoples [9 August] is "Bridging the gap: implementing the rights of indigenous peoples". Indigenous women are actively raising stronger voices in claiming the Beijing Declaration and Platform for Action – the most progressive blueprint ever for advancing women's rights.
In her message for this UN observance, UN Women's Executive Director stresses the need for indigenous women's full and equal participation in decision-making at all levels and urges the international community to take measures to fulfil their aspirations for equality, freedom and justice. [Also available in Spanish and French]
UN Women actively supports indigenous women around the world to ensure their rights are respected and their voices are heard – whether through our Fund for Gender Equality programmes to increase economic empowerment and political participation, UN Trust Fund grants to end violence against indigenous women and girls, or other targeted UN Women research or programmes.
Our work with indigenous women and girls:
This year UN Women sponsored eight indigenous women activists to bring their concerns forward at the 58th Commission on the Status of Women, through its Yvonne Hebert scholarship. Five of these women – from Mexico, Kenya, Greenland, Brazil and Tanzania – shared first-person accounts of the issues they face and how they are pushing for change.
Breaking the silence on violence against indigenous girls: UN report calls for urgent action
A joint UN study, launched during the XII Session of the UN Permanent Forum on Indigenous Issues, reveals that indigenous girls have a greater risk of experiencing violence and the multifaceted discrimination they face limits their ability to seek protection and recourse.
Aty Cuña: Indigenous women's assemblies tackling cases of violence and rights violations
On the Brazil-Paraguay border, women leaders of the indigenous Guarani-Kaiowa and Ayoreo communities are organizing themselves to protect their rights and their dynamic women's assemblies are preventing and documenting gender violence.
Indigenous women leaders in Southeast Asia unite against development-based violence
Indigenous women from eight countries across Southeast Asia find common ground during a consultation held in Chiang Mai, Thailand, on violence against indigenous women that is worsened or caused by economic development projects.
This 2013 compilation includes an infographic on the number of self-identified indigenous peoples around the world, select UN milestones and it outlines UN Women to support the efforts of indigenous women who are bringing change in their communities worldwide through FGE and UNTF programmes.
Indigenous Women of Achievement:
As part of its new Beijing+20 campaign, UN Women has featured a series of portraits that spotlight women and girls who have made it in their respective fields –often in uncharted territories– by overcoming barriers and beating the odds to reach their goals. These include indigenous women such as Georgina Beyer, a Maori former MP and Mayor from New Zealand who drafted one of the country's first bills for equitable natural resource management, and Marcelina Bautista from the indigenous Mixtec community in Nochtixtlan, Mexico, who won her country's National Human Rights Award for contributing to the development of the international treaty for domestic workers' rights.