Listen, believe, support: the power of mental health care for survivors of violence
Date:
"I just started talking about what I was going through."
"I opened up."
"I've had psychological support."
For each woman survivor of violence, healing from trauma is a unique journey, but it always begins with sharing.
Around the world, one in every three women will be beaten, coerced into sex or abused in some other way—most often by someone she knows. Yet public services, such as quality mental health services, are rarely planned with women's safety, recovery and healing from violence in mind.
As a result of the trauma, many women survivors develop emotional or mental health problems that require timely, comprehensive and professional treatment. But too often, this critical health service is not available or accessible for a vast majority of survivors, especially in low- to middle-income countries.
Although mental health care is one of the six essential services for addressing the needs of survivors, unlike physical injuries, the emotional and mental impacts are less visible and consequently, under-prioritized.
When survivors have access to comprehensive psychological services and support, they have the opportunity to heal, to transform their trauma into advocacy, to own their stories, reclaim their bodies and fight for a world without violence. Here are some of the stories that show us what can happen if this service is provided.
Learning to listen, starting to share
When a woman reaches out for help, it's important that mental health care providers are adequately trained in receiving and treating survivors.
Laurelle Siton, 33, is a social worker in the municipality of Abomey-Calavi, Benin. She began working with women survivors in February 2018, and in December she received psychosocial support training for survivors of violence from a UN Women programme. "Now, when a survivor starts to cry, I let her know that I understand her pain and that her cries are normal," she says. "I tell her that crying can be freeing, and that she can cry as much as she wants. If she would like, we can suspend the appointment and find a new date."
In a recent project, Siton received and listened to about 360 survivors of violence from her region. She knows the importance of the counselling support she provides because she's seen first-hand how it helps women, "to be confident, to feel considered by others, and, above all, to know that she is of value and that we know the importance of her story."
Pierrette, 39, is a survivor who is also from the Abomey-Calavi region of Benin. Throughout her childhood, Pierrette was abused by her guardian. In a desperate attempt to escape her abuser at home, Pierrette married at a young age, and the relationship quickly deteriorated. She faced verbal and physical abuse in the hands of her husband. After several years, her husband abandoned the family, leaving Pierrette to provide for their four children alone. "I was carrying all the family's burden," she says.
When Pierrette sought mental health treatment, Siton was there to listen and support. "It was Ms. Laurelle [Siton], who listened to me and then referred me to the psychologist who followed up on my case and supported me," says Pierrette.
Through the individual counselling, Pierrette's emotional health has improved. "I feel much better than before. My worries have diminished… This support has given to me some relief."
Mental health care is more than a job, it's a public service.
Service providers like Ina Grădinaru, Deputy Director at a centre for women survivors of violence in Drochia, Moldova, are often the first line of support for women who have experienced violence.
"I am the first person that the women talk to when they come to the Centre," says Grădinaru. Fulfilling this essential role means that providers must respond to a woman's emotional and mental needs in a non-judgmental manner that offers comforts and respects the woman's autonomy.
Through her 12 years of working with women, Grădinaru has learned that, "the attitude you have and show when you first meet a survivor is very important. Before anything else happens, a victim of domestic violence needs to be believed."
Believing survivors is key to creating open lines of communication where providers can listen empathetically and guide women towards finding their own solutions. For Grădinaru and many mental health support providers around the world, this work is much more than a job, it's a public service.
"Women need to understand that violence is not a norm, but a crime that is punishable by law."
"I wanted someone to understand."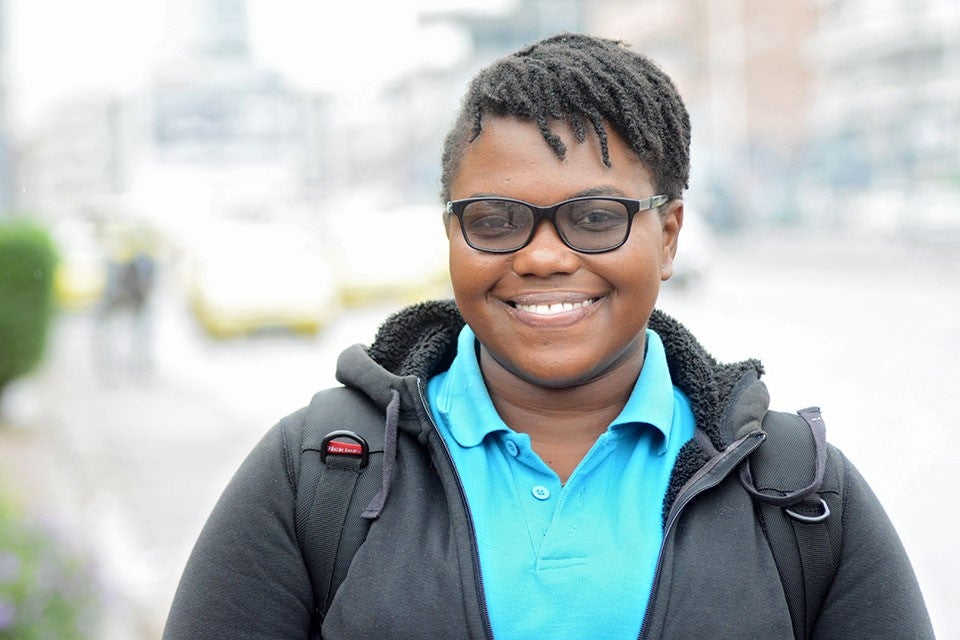 The importance of hearing and believing survivors is at the heart of Emmanuella Zandi Mudherwa's healing journey.
Mudherwa was seven years old when she was first raped by an armed soldier. She was then rejected by her own community because of stigmas surrounding rape. Several years later, she was raped again by a cousin, and the abuse continued for several years. Eventually, the pain became too much to bear. Mudherwa couldn't sleep at night and became sick. When she went to the hospital, the doctors couldn't find anything wrong with her physically.
"I wanted someone to understand… but no one did… The hardest thing for me is the look that people give, when they don't believe you," she says.
Near her breaking point and in need of counselling, Mudherwa opened up to colleagues about what she was going through. "That was the first step in my healing," she shares, although the journey proved to be long and difficult. "The community shamed me; I was even kidnapped for three days to be silenced. But it didn't stop me. I was not afraid no more, I didn't want other kids to be silenced… I realized that I had to start my fight somewhere."
The act of sharing her story and the challenges that she's faced in finding her voice has not only brought Mudherwa back to health but given her a dream; She now teaches youth in her region about gender-based violence and has founded her own non-profit organization that promotes girls' empowerment.
"My dream is to see girls and young women doing things for themselves and for their community."
"No woman should go through this alone."
Oala's journey was like Emmanuella's.
Oala was 17 when she was sexually assaulted. "It was like a nightmare that came true. I was afraid to speak up because of stigma and discrimination. I kept thinking, what would people think, say and feel about me…" she says.
But today Joanna Oala is a survivor, and what's more, she has become a champion for ending gender-based violence in Papua New Guinea.
For years she held her pain inside, sinking into anxiety and depression. "I did not see my value in the world, I felt worthless," she shares.
After three long years of suffering, Oala opened up to a group of close friends about her assault and how it affected her. She didn't have access to professional mental health care, but with her friends standing by her, she began to share her story more widely with women and girls.
Oala understands that speaking out is important, and the lack of mental health services is a problem.
"I choose to stand up to advocate on this issue because I know that by sharing information, making people aware of gender-based violence and the visible and invisible scars it leaves on survivors, I can help other survivors and I can help create self-awareness among girls so that they know how to speak up and seek help."
While no two women's stories of healing from violence are the same, access to adequate mental health care and support is essential for all survivors. Reaching out, speaking up, and shedding light on their trauma gives women a chance to rewrite their stories.
With support comes individual and collective strength: the power to speak, to shout, to stand against all odds.
"It's better to speak up and let your voice be heard."
"I feel much better than before."
"Yes, I was a victim. Yes, I survived violence. But I don't like being called survivors, instead, I want to be seen as victorious."