International Women's Day 2019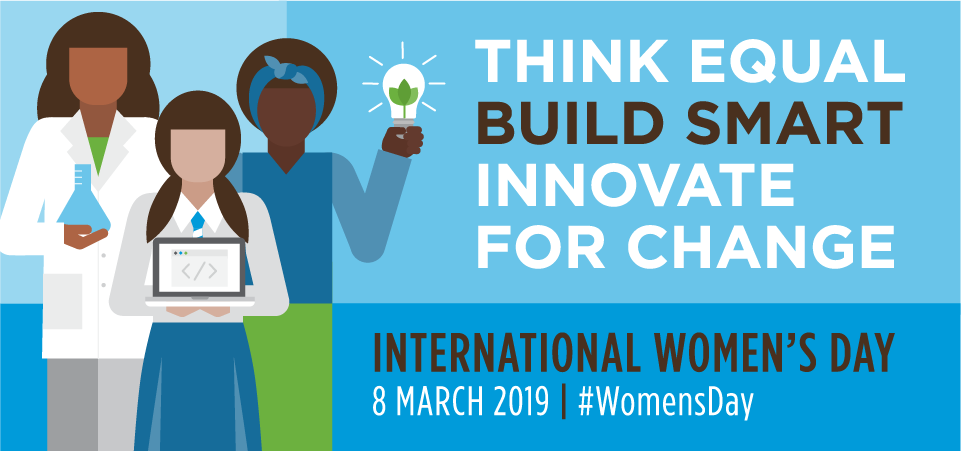 Video | Photo essay | Special features | News | Social media | UN observances
The theme for International Women's Day (8 March) this year, "Think Equal, Build Smart, Innovate for Change", puts innovation by women and girls, for women and girls, at the heart of efforts to achieve gender equality.
Join the conversation!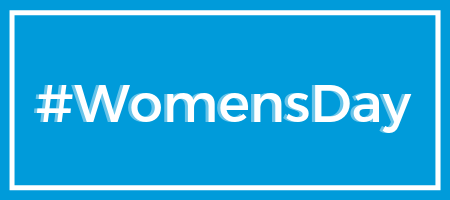 Use #WomensDay on social media to stand with the groundbreakers who are building a gender-equal future, and be part of the change. Check out our social media package with stereotype-defying visuals, GIFs and inspirational quotes from women innovators here.
Tweet #WomensDay
Achieving a gender-equal world requires social innovations that work for both women and men and leave no one behind. From urban planning that focuses on community safety to e-learning platforms that take classrooms to women and girls, affordable and quality childcare centres, and technology shaped by women, innovation can take the race for gender equality to its finishing line by 2030.
It begins with making sure that women's and girls' needs and experiences are integrated at the very inception of technology and innovations. It means building smart solutions that go beyond acknowledging the gender gaps to addressing the needs of men and women equally. And ultimately, it needs innovations that disrupt business as usual, paying attention to how and by whom technology is used and accessed, and ensuring that women and girls play a decisive role in emerging industries.
Join us to celebrate women and girls, their limitless imagination, their joyous dreams and their boundless strength.
Video: This #WomensDay, we're innovating for change
What does it mean to innovate? From mobile banking to artificial intelligence and the internet of things, it is vital that women's ideas and experiences equally influence the design and implementation of the innovations that shape our future societies.
Photo essay: Equality is our goal, access is our right
A bus to get to work. A clinic for health care. A monthly pension for old age. Some people can take these for granted. But many others suffer from the lack of infrastructure, public services and social protection that affect their rights and well-being. Women and girls are often foremost among those who miss out. See more►
Five innovations that have advanced women's rights
From the internet to the bicycle, here are just a handful of innovations we take for granted today that have shaped the lives of women and girls worldwide. Read more►
Virtual reality film series
In a series of four virtual reality films, produced by Google with the support of UN Women and Vital Voices, take e a glimpse into the experiences of four women's rights activists who are fighting to ensure no woman or girl is left behind. Read more►
Women rising
We're celebrating women activists around the world who have insisted on a better world and persisted in the face of adversity. Read more►
Amplify the stories of the unheard
This International Women's Day, UN Women is sharing the unheard stories of incredible women. We invite you to listen and share the stories that inspire you at unheardwomen.org
Now you can get gender equality stories every week on your Alexa-enabled device. Find out how►
News
Take the #WomensDay social media challenge!
For International Women's Day, join us to increase the visibility and recognition of women trailblazers. Follow @UN_Women to take one of the daily challenges, from finding a woman on your currency to sharing a street named after a woman in your town. A new challenge will be revealed every day!
Check out the automatic emoji on Twitter when tweeting with the official hashtag #WomensDay.
Change your Facebook and Twitter cover image with banners available here.
Follow our accounts for live coverage from UN Women events and share content from our social media package, packed with images, GIFs, videos and sample messages in English, Spanish and French, available here.
Follow @UN_Women
See our coverage of International Women's Day 2018
See our coverage of International Women's Day 2017
See our coverage of International Women's Day 2016
See our coverage of International Women's Day 2015
See our coverage of International Women's Day 2014
See our coverage of International Women's Day 2013
See our coverage of International Women's Day 2012