Joint UN–AU high-level delegation to Nigeria and the DRC to spotlight women, peace and security agenda
Date:
Today, the UN Deputy Secretary-General Amina Mohammed began a first-of-its-kind visit to Nigeria and the Democratic Republic of the Congo (DRC), joined by the Executive Director of UN Women, Phumzile Mlambo-Ngcuka, the UN Special Representative on Sexual Violence in Conflict, Pramila Patten, and the African Union Special Envoy on Women, Peace and Security, Bineta Diop.
During the visit, the three senior UN officials will seek to raise awareness on a range of gender equality issues, including on the importance of women's participation in peace and security processes, and to ensure that women's voices are heard in all aspects of the society.
Evidence shows that women's meaningful participation helps with the conclusion and implementation of peace agreements, contributing to sustainable peace. Women are powerful agents of change and from time and time again, they have driven community recovery after conflict through their contributions to the society and the economy. Yet, women are almost completely missing from peace negotiations. The Principals will stress on the engagement of women in peace and security discussions, as a key aspect of violence prevention.
The joint UN–AU delegation will travel to Abuja, Nigeria, where they will meet with the acting President Yemi Osinbajo and other senior members of the Government. They will also hear from women leaders and young women who have been affected by conflict.
Violent extremism is an obstacle to development in North-East of Nigeria and a clear impediment to women's rights. The militant group Boko Haram has since 2014 abducted more than seven thousand women and girls in Nigeria, subjecting them to sexual violence, including sexual slavery, forced marriage, as well as physical and psychological abuse. The group is also notorious for the use of forced female labour and forced recruitment of females in their military operations, for example through their deliberate use of young women as suicide bombers.
Ending the stigma that these women often face when they escape or are freed, and providing them with access to comprehensive care services, including support for trauma and health impacts, as well as income-generating skills, is of crucial importance.
The visit will be an opportunity to discuss ways to help the country advance the gender equality agenda, as a precondition for sustainable development, for instance, through the full implementation of the Gender and Equal Opportunities Bill in Nigeria. The bill, approved by the Senate and waiting for the public hearing, would bring about the advancement of all persons in Nigeria, protecting their rights and eliminating harmful cultural practices, and would also enhance prosecution and punishment for rape perpetrators.
Highlights
Ms. Mlambo-Ngcuka explained that the mission is about "solidarity, hope and encouragement of parents, of activists, of governments, of young people who have had to bear the scourge of violence" that Nigeria has been witnessing. In underlining the importance of the country to the continent of Africa, she said that one of the focal areas critical to the visit is "promoting women's leadership and greater participation of women in politics" and in doing so, it is necessary to "identify the women now and accompany them every step of the way" until women's participation is increased.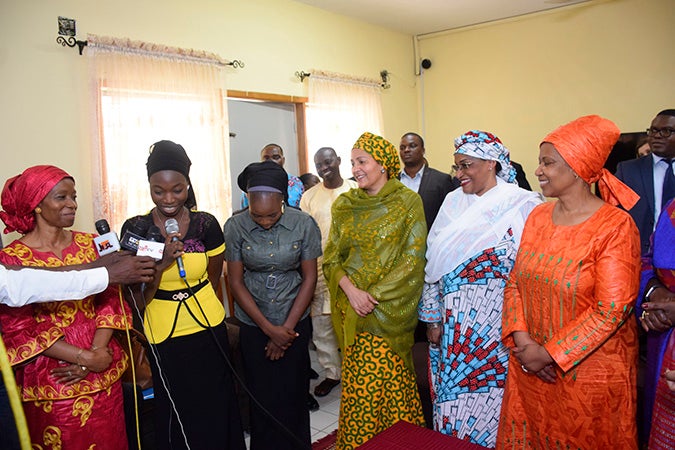 Federal Minister of Women's Affairs Aisha Alhassan shared her belief that the high-level mission would "bring visibility to the roles that women play in advancing the realization of the 2030 SDG goals, and help to strengthen and deepen [the ministry's] established partnership with UN Women".
"Urgent action is needed now towards the meaningful participation of women in peace processes, as well ensuring their voices are heard in all aspects of society, United Nations Deputy Secretary-General Amina Mohammed told reporters in Abuja on July 20, as part of the UN-African Union trip focused on women, peace and security."
Ms. Mohammed also spoke about meeting with young refugee girls, who, living in camps, fled tragedies, including some of the freed Chibok girls. "We heard stories that young girls should not have to tell, and these have been a tragedy for all of us," she lamented.
However, the deputy UN chief was inspired by their spirit as they "refuse to be victims and are survivors with a future that is bright."
"We saw girls […] who talked about their dreams – no longer their nightmares," she said, adding that while challenges remain as there are many girls still left behind, "it shows that there is hope.""
Wonderful to be in Nigeria and welcome the Chibok girls and help them heal pic.twitter.com/fk67u9GtGR

— Phumzile Mlambo (@phumzileunwomen) July 20, 2017
Survivors are strong. You have aspirations, drive and inspiration. I am humbled to have met, danced and dined with #ChibokGirls #DSGinNG pic.twitter.com/Wc6orKWJEN

— Amina J Mohammed (@AminaJMohammed) July 20, 2017
Nigerian Minister of Women's Affairs Aisha Jumai Alhassan, presented Acting President of the Republic of Nigeria Yemi Osinbajo a photo of his endorsement as a HeForShe Champion, taken during the national launch of the campaign in May this year. The Deputy-Secretary-General Amina Mohammed, UN Women Executive Director Phumzile Mlambo-Ngcuka, the SRSG for Sexual Violence in Conflict Pramila Patten, the African Union Special Envoy on Women, Peace and Security Bineta Diop and members of government were also in attendance.
VIDEO: @UN Deputy Secretary General @AminaJMohammed today led a UN delegation to visit AgP @ProfOsinbajo. She speaks on the visit#HeForShe pic.twitter.com/tMIxwVTbmc

— Presidency Nigeria (@NGRPresident) July 19, 2017
Later, Ms. Mohammed, Ms. Mlambo-Ngcuka, Ms. Patten and Ms. Diop took part in a working dinner with women leaders and young women affected by conflict in Abuja, hosted by the Minister of Women's Affairs and Social development.
Related Links: