Displaced Women and Girls: Leaders and Survivors
Media & speeches |Events & webcasts | Feature stories |Join the conversation
Fourteen years since the adoption of Security Council resolution 1325 in 2000, significant progress has been made on the women, peace and security agenda. There is growing recognition that women's empowerment is a key ingredient for democracy, stability and lasting peace. Yet, the increased violence, mass displacement and humanitarian catastrophes of the past year have had a detrimental impact on the security of women and children — particularly girls — hindering progress towards achieving peace, security, reconciliation and stability for all.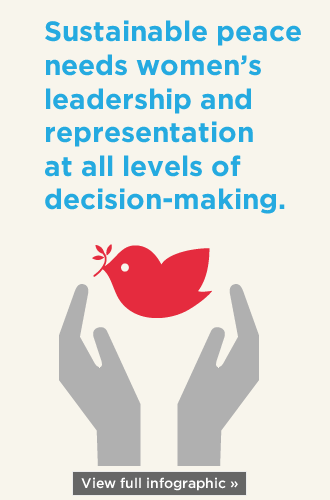 The tragic human cost of current conflicts is starkly visible in the situation of refugees, asylum-seekers and internally displaced persons (IDPs). By the end of 2013, 51.2 million people had been forcibly displaced — the highest number in the post-World War II era. While in 2011 violent conflicts forced some 14,000 people worldwide from their homes every day, in 2013 this number escalated to 32,000. Three-quarters of the refugee and IDP population are women and children.
Displacement, refugee status and statelessness exacerbate existing gender inequalities. Gender-based discrimination in access to economic resources; education and employment; poor reproductive health care; and exclusion from decision-making processes make refugee and IDP women and girls one of the most vulnerable groups in the world.
On 28 October 2014, the UN Security Council will convene its annual Open Debate on Women, Peace and Security, with a focus on "Displaced Women and Girls: Leaders and Survivors." The protection, human rights, participation and access to humanitarian assistance of women and girl refugees and IDPs have been a concern of the Security Council since the adoption of its landmark resolution 1325 in 2000. The debate will address commitments made to the situation of refugee, internally displaced and stateless women and girls, including the seven resolutions adopted by the Security Council on women, peace and security.
The new report of the UN Secretary-General on women, peace and security (S/2014/963) highlights the progress, gaps and challenges in implementing resolution 1325 over the last year, and calls for all actors to leverage its strategic high-level reviews in 2015 to ensure gender equality is included in peace and development.
This year's debate occurs on the heels of the launch of a Global Study on the implementation of Security Council resolution 1325 and amid preparations for its 15-year anniversary and High-level Review in 2015.
UN Women's efforts
In collaboration with partners, UN Women is currently supporting implementation of women, peace and security commitments in more than 35 countries. This includes: support for strengthening women's peace coalitions and help to prepare them for engagement in peace processes; work with peacekeepers to help detect and prevent conflict-related sexual violence; support to build justice and security institutions that protect women and girls from violence and discrimination; and initiatives to promote gender equality in humanitarian responses and public services that respond to women's needs, ensure women's access to economic opportunities, and build women's engagement in public decision-making at national and local levels.
See our facts and figures on women's role in peace, security and justice »
Media and speeches
Press release: As nature of conflicts change, UN Women urges swifter action to protect targets of violence
UN Women Executive Director's speech at the Open Debate on Women, Peace and Security
Statement by the President of the Security Council
Recent related material:
New study to examine women's role in peace and security over the past 15 years
Events
Watch the webcast of the Open Debate live here on 28 October 2014 at 10 a.m.
A range of side events and activities will be organized by Member States, regional organizations, civil society and United Nations entities in connection to the Open Debate to provide opportunities for stakeholders across regions to share experiences, good practices and lessons learned on the implementation of commitments on women and peace and security. Calendar of Side Events »
Feature stories
In the words of Suaad Allami: The plight of Iraqi women refugees
An award-winning Iraqi lawyer and activist for women's rights from Sadr City in Baghdad, Suaad Allami was invited to speak at this year's Security Council Open Debate on Women, Peace and Security. She gives us a glimpse of how thousands of Iraqi women and girls are coping with displacement.
Braving dust storms, women plant seeds of hope at the Dadaab refugee camp
Turning dry lands into fertile fields, a livelihood project is helping Somali women refugees in Kenya make a living and prevent sexual and gender-based violence.
Balkan women make inroads in peace and politics
With support from UN Women, women leaders in the Balkans are putting gender issues at the centre of politics and fuelling women's empowerment in order to bring peace and stability to the region.
Video: Women of Syria: An appeal for peace
Nearly 50 Syrian women from within and outside the country came together at a conference in Geneva to appeal for peace, a voice in the ongoing political negotiations on their country, and for the world's attention to the ongoing tragedy facing their people. Here, a number of them share their hopes for Syria.
"I was forced to become one of his 27 'wives'"
Evelyn Amony was abducted by the Ugandan rebel group known as the Lord's Resistance Army when she was only 12 years old. Today she is Chair of the Women's Advocacy Network, comprised of over 400 formerly abducted and war-affected women. In her own words, she tells her story…
Trainings in Colombia build expertise on investigating gender-based crimes
A special training course in Bogota, Colombia is providing participants with the skills to investigate cases of sexual and gender-based violence related to conflict.
Sowing seeds, reaping income and independence, in Timor-Leste
Through self-help groups, grants and gardens, widows, single moms, and survivors of violence are gaining economic independence in rural Timor-Leste.
Hope runs deep, rebuilding confidence among Syrian women refugees
UN Women's Executive Director visited UN Women's Oasis, a safe space for women to seek support and skills training in Jordan's Zaatari Refugee Camp.
Congolese refugees living with HIV forge ahead, gaining independence
Women are cultivating mushrooms and tomatoes, learning about business and agriculture and pooling their funds along with combating social stigma and confronting gender-based violence.
Join the conversation
Join the online conversation about the UN Security Council Open Debate on Women and Peace and Security! Use the hashtag #UNSCR1325 on Twitter to share your thoughts. A social media package with images and messages in English, Spanish and French can be downloaded here.
Tweets about "#UNSCR1325 "
Follow us
@un_women, @onumujeres, @onufemmes, @phumzileunwomen on Twitter
UN Women, ONU Mujeres, ONU Femmes on Facebook
UN Women on Google+
UN Women on LinkedIn
UN Women on Instagram
Security Council Open Debate on Women, Peace and Security