Engaging Men
As part of its Beijing+20 campaign and its work to engage men and boys on gender equality and women's empowerment, UN Women participated in the second MenEngage Global Symposium from 10-13 November in Delhi, India. Hosted by the MenEngage Alliance, a global network of civil society organizations working to advance gender equality, more than 1,200 people took part in this year's event under the theme of "Men and Boys for Gender Justice".
Ms. Mlambo-Ngcuka officially inaugurated the Symposium, which included a HeForShe conversation on male accountability for gender equality. In her speech at the Opening Plenary, she said gender equality can only be achieved if men and boys take full responsibility, working side by side with women and girls, to redress the dynamics that hinder progress. UN Women took part in several events at the three-day-long Symposium, which concluded with a declaration and call to action.
At the Symposium, UN Women also announced the appointment of actor-filmmaker-singer Farhan Akhtar as its South Asia Goodwill Ambassador. He is the first man to be chosen as a Goodwill Ambassador in the organization's history. In his new role, Farhan will dedicate his efforts to the empowerment of women and girls, and will serve as an advocate for UN Women's newly launched HeForShe initiative in advocating for gender equality.
UN Women's work on engaging men and boys for gender equality is anchored in the belief that achieving gender equality is about transforming unequal power relations between men and women. This involves challenging notions of masculinity and traditional perceptions of manhood. It requires men to question power dynamics in their actions or their words at the personal, interpersonal and societal level and to take responsibility for change. Men need to be engaged as gender advocates – speaking out as active agents and stakeholders who can transform social norms, behaviours and gender stereotypes that perpetuate discrimination and inequality.
Be it through its recently launched "HeForShe" initiative, which has already galvanized citizens around the world to sign up to do their part for gender equality, or its policy and programme work, UN Women is actively engaging men and boys for women's rights. From the classroom to the streets, local leaders and everyday male champions are addressing violence against women and redefining masculine identities through community intervention programmes, education and even music.
Our work to engage men:
In Rwanda, men work to change attitudes and confront gender-based violence
Nearly 3,000 local leaders have already been educated and engaged to fight gender-based violence by a men's resource centre that is promoting the concept of "positive masculinity".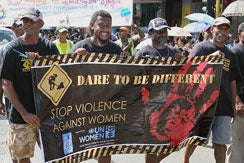 In Fiji, communities mobilize ground-up to end violence against women and girls
Street workers and the homeless are raising awareness and halting violence against women in public spaces, while more than 700 students and teachers are educating to transform attitudes in 63 schools across Fiji.
Men in the kitchen: cooking up change in Mozambique
An innovative programme is increasing men's participation in domestic activities to promote gender equality and address violence against women and girls. At least 1,600 men have taken part in the course, complemented by a series of awareness-raising activities.
In Dominica, a violence-prevention programme helps boys overcome gender stereotypes
A Community Intervention Programme piloted on two Caribbean islands is breaking through traditional stereotypes around gender while teaching boys about self-restraint and how to nurture healthy relationships.
Allies against violence: fatherhood training to end discrimination against women in Turkey
In Turkey a 'fatherhood programme' is mobilizing awareness on prevention of violence against women and girls by promoting gender sensitivity and equity among fathers.
Palestinian hip hop group DAM raises awareness of 'honour killings' through a powerful music video
Supported and funded by UN Women, this state-of-the-art production by a male hip hop group aims has been raising awareness and mobilizing Arab youth against violence around the world.
How ending violence against women and girls became my passion
A remarkable young man from Tanzania, 24-year-old Mwasapi Kihongosi won the global UNiTE T-shirt design competition in 2011, then climbed Mount Kilimanjaro and led a Caravan for Change against violence and harmful traditional practices in 2012. He tells us how this plight became his passion.
We take a look at some of the ways UN Women is working with men and boys around the world to advance gender equality and women's empowerment.